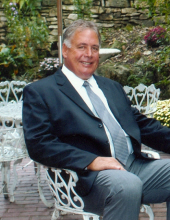 Kelly Joseph McGuirk
Heaven's tomato crops are about to get bigger. Kelly Joseph McGuirk passed peacefully on November 9, 2017 at Kansas City Hospice Center. 

Kelly was born November 19, 1955, to LaRaine and Joseph McGuirk in Kansas City, Missouri. From a young age Kelly never met a stranger – even inviting the old neighbor ladies of Louisburg to his fifth birthday party. He blessed those he met with a great joke, a fiery debate or a helluva story.

Kelly loved the small-town life in Louisburg and no matter where his adventures took him, he always came back. Raised at McGuirk Ford, he had a passion for cars, especially the Mustang. Over the years you may have bought a car or SnapOn Tools from him. Many know him as the proud owner of Kel-Mc Industries. Sure to balance work with play, he loved to ride his motorcycle, drive boats and fly airplanes. 

Kelly was proud of his greatest invention, the "4-in-1 Tomato Cage" which he developed with his buddies. Curious about music and arts, Kelly also loved to cook. He was always at the grill or experimenting with recipes in the kitchen, perhaps with a little blues music playing in the background. Friends, family and even acquaintances were the benefit of his culinary skills, he welcomed all into his home. 

For decades, Kelly carried his trumpet to Memorial Day observations and military funerals, honoring veterans and fallen heroes with a beautiful rendition of "Taps." His Catholic faith lifted him up in his darkest hours of loss and sickness, bringing him reflection and peace. 

Kelly is preceded in death by his parents and beloved daughter, Kelsey. He will be missed by his wife, Shirley Hardy McGuirk, whom he made laugh every day. Christmas Eve dinner won't be the same for his brother, Steve McGuirk, and sister, Lisa Endecott, who will miss his special Ridlet Soup. He is survived by his grandchildren, Delilah, Atticus, and Finnegan and numerous step-children and step-grandchildren. His dog, Elizabeth Taylor, will miss her buddy but we know he is being greeted in heaven by the wagging tails of Woodrow and Eddie. 

Honor Kelly today by shaking a stranger's hand, trying a new recipe or taking a long drive in the country. Kansas City Hospice provided a peaceful place for us to say goodbye, donations in his honor are welcome 
c/o Dengel & Son Funeral Home Louisburg Chapel
P.O. Box 669 Louisburg, KS 66053

A memorial Mass for Kelly will be 11:00 a.m. Saturday, November 18, 2017 at the Immaculate Conception Catholic Church, 606 S Elm St, Louisburg, KS 66053.

Please join the family after the Funeral Mass at the American Legion Post 250 403 S. 9th Louisburg, KS.