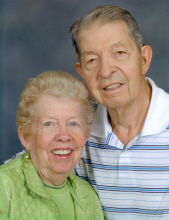 Richard D. Shaver passed away October 6, 2017 at Healthcare Resort of Leawood. 

Dick was born July 31, 1927 at the family home on a farm near Muscotah, Kansas to Clarence and Mary Shaver. He was preceded in death by his parents, wife Rose Ella; son Dean Richard; sister Mary; brothers Clarence Jr., Jacob, Duard, Bill, Victor, Bob, and Charlie. He is survived by his sons Richard Jr., and Ron; daughter-in-law Mary; and beloved grandchildren Richard III, Elysse, Jordan and Taylor; sisters Norma Diamond of Galeton, PA, Jeanne Edwards of Topeka, KS; many cousins, nephews, nieces and friends. 

Mr. Shaver served in the U.S. Navy in the South Pacific during World War II along with his five brothers. He was a member of the Atchison Police Force in the late 40s and then went to work for the Santa Fe Railroad in the police department at Emporia, Kansas in 1949. He was promoted and transferred to Topeka in 1952, to Kansas City, Missouri in 1955 and to Fort Madison, Iowa in 1962. Dick later was promoted to the safety department and spent 15 years in Chicago as the Assistant Vice President of Safety-Systems. He very much enjoyed this time of his working life. He was very committed to making the Santa Fe Railroad the safest railroad in the nation. During his time in this position it moved from 23rd to number one among United States First Class Railroads, a position which they held for many years.

Mr. Shaver was Chairman of the National Safety Council Railroad Section and Chairman of the Association of American Railroad Safety Section. He was a member of the Association of Safety Engineers. He worked for 39 years for the Santa Fe Railroad and he frequently said he enjoyed every one of the days he worked. He always gave Rose Ella much of the credit for his success.

Dick married Rose Ella Christian on December 31, 1947. Rose Ella was not only his best friend and advisor but the love of his life. Their team work was pretty special and lasted until her death on May 7, 2010, 63 years. 

Dick retired on January 1, 1988. He and Rose spent about a month in Australia and New Zealand and then move back to settle in on a farm west of Paola. Together Dick and Rose made many friends in Paola. Rose Ella was very active in the church and together they sponsored the food kitchen for many years. They also got into raising Registered Romagnolo Cattle. This activity brought them great pleasure and brought back memories of their youth growing up on farms during the Great Depression.

Dick and Rose Ella moved to Hilltop Dr. in Paola in 2000 where each remained until their passing.

The family takes great solace in knowing that they are together again.

Visitation will be 10:30 -11:00 a.m. Wednesday, October 18, 2017 at Dengel & Son Mortuary, 305 N. Pearl St., Paola, KS. Funeral service will follow at 11:00 a.m. Burial will be in Holy Cross Cemetery.